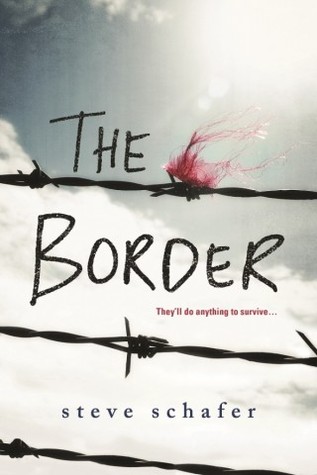 Title: The Border
Author: Steve Schafer
Publication Date: September 5, 2017
More info on Goodreads
Thank you to NetGalley and the publsher, Sourcebooks Fire, for a copy of The Border in exchange for my honest opinion.
I was so excited to read this book. I honestly knew nothing about it or the author when I came across it on NetGalley. When I read that this was about 4 teens trying to cross the Mexican/American border after all of their families were murdered by a gang I was hooked. I've never read a book like this and with today's politics in the US it is UBER relevant!
Let me tell you this, if you are looking for heartbreak – cause let's be honest who doesn't crave a good heart crushing story once in a while – YOU NEED TO GET THIS BOOK. My heart was hurting from beginning to end. The story is tremendously sad and the journey they take is physically and mentally exhausting. The writing was on point! It was as if I was reading a memoir, not a fictional story. The details were so precise and the descriptions were so extraordinary.
Some of the characters fell a little flat for me. The fact that the character who's point of view we have falls in love with the only girl in their group is just typical. I understand, some of the scenes wouldn't have been so dramatic without the romance, but it was such an obvious thing to happen. For a book that's unlike any I've ever seen or read, it was disappointing to have the fail safe romance.
I loved this book though. And whether or not you think this might be something that will interest you, please give it a chance! I'm not normally one to push books on people but I loved this one and it's so relevant to today's events.