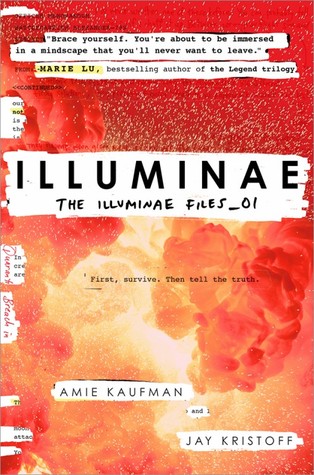 Title: Illuminae (The Illuminae Files #1)
Authors: Amie Kaufman and Jay Kristoff
Publication Date: October 20, 2015
More Information on Goodreads. (but you probably don't need it)
This is probably the only book that I started reading immediately after I bought it. And it was only by chance that I bought it on the release date because I thought it didn't come out until November! Anyways, here are my thoughts.
To be honest, as excited as I was about this book, I was very nervous to read it. I haven't read anything by either author and everyone kept saying it isn't written like a regular book. Everyone loved it but I had my doubts, how can you tell a story with depth and emotion when it's told through documents and emails and whatnot. I also wondered how they would make it a series.
After finishing this book: no doubts.
Disclaimer: If you are sensitive to violence, be cautious with this book because it is quite blunt and direct with the violence. No euphemisms in this book. Sometimes it was tough to read, I admit, but it worked for this book.
If you can get past the fact that HAL from 2001: A Space Odyssey probably gave them inspiration for this book, it is actually fantastic!
It's hard for me to form a coherent thought about this book right now!
The characters were great. They were all witty and sarcastic, which I loved, but not everybody does. But the characters also experience pain and sadness which is not usually discussed in books full of action. Also, I think I have my first book boyfriend…. Ezra is just so swoon worthy! And maybe a crush on Kady too because she is super smart and badass.
The plot was so captivating! I did not want to put the book down. If I didn't have adult responsibilities, I would have stayed up all night to read it. There wasn't really any down time between events so I kept wanting to read to find out what happened! I won't spoil anything but there are a few plot twists here and there.
Also, we need to talk about the actual piece of art that is this book. To really appreciate this book, I think you need a hard copy, not an ebook. Some of the pages are so unlike anything I've ever seen. If you can't appreciate this book for the story, at least appreciate this book as a piece of art and all of the hard work that went into creating this master piece.
I would recommend this book to everyone. Even if sci-fi isn't your thing, it doesn't get super technical all of the time so you can still understand what is going on.